Bed Bug News & Updates
Stay Up To Date With The Latest News & Research On Bed Bugs
Detection of Reduced Susceptibility to Chlorfenapyr- and Bifenthrin-Containing Products in Field Populations of the Bed Bug (Hemiptera: Cimicidae)
Insecticide resistance is a major impediment for effective control of Cimex lectularius L. Previous resistance detection studies with bed bugs have focused on certain pyrethroid, neonicotinoid, organochlorine, organophosphate, and carbamate insecticides. read more here
Reactions to Bed Bug bites can differ from person to person
Bed bug victims can have no skin reaction at all, a minor inflammation, a complex skin reaction or a systemic allergic reaction…(read more here)
DIY Insecticide Solutions Can Have Unfortunate Results
Two sisters are reported dead after medicine meant to kill bedbugs ended up killing them in their room at Asafo, Kumasi in the Ashanti region… (read more here)
Center for Disease Control (CDC) Recommends Heat in War on Bed Bugs
With CDC reports showing chemical bed bug treatments are causing human illness, even death, the ThermaPure Heat Process Co-invented by David Hedman is gaining traction in the war on bed bugs.
Read More
Here are 10 tips to keep yourself safe from Bed Bugs!
The Importance Of Hiring A Professional To Treat For Bed Bugs
From the Edmonton Journal, Feb 24, 2015
A mother trying to kill bed bugs in her Fort McMurray apartment used an imported pesticide that fatally poisoned her infant and left her other children critically ill.
The substance used in the apartment was a pellet form of phosphine, an agricultural pesticide that is strictly controlled in Canada and requires special training to use.
When exposed to the air, the pellets react with moisture and release phosphine gas, said James Kehrer, a toxicologist at the University of Alberta. As a gas, it's often used to fumigate large batches of grain.
"It will kill the bed bugs, but it's nasty stuff," said Kehrer. "Children are more susceptible to these things. It should only be used by a professional."
Can Bed Bug Traps Clear An Infestation?
Brooke Borel – Popular Science
Over the past few weeks, you may have noticed a flurry of headlines about a revolutionary new bed bug trap, which its inventors claim will put a big dent in bed bug infestations. So, does this new contraption truly mean the end of bed bugs?
Short answer: probably not. Long answer: read on.
The new bed bug trap comes from researchers at Simon Fraser University, and it published in Agewandte Chemie, International Edition in late December. We've been trying to build bed bug traps for centuries. But what the SFU researchers have done is add a new twist.
Researchers Find Bed Bugs Could Carry A Deadly Disease
Lynne Peeples – Huffington Post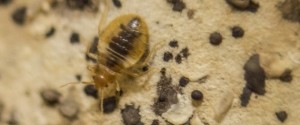 As bed bug infestations have continued to crop up in firehouses, schools, movie theaters and homes across the country, a team of researchers is now warning that these proliferating pests could prove to be more than just an itchy, pricey nuisance.
According to a new study published on Monday, bed bugs are capable of transmitting a parasite that causes Chagas disease, an infection that in some cases can lead to cardiac or intestinal complications. The infection is found most commonly in Mexico, Central American and South America, but has been increasing its foothold in the U.S.
"There are a lot of people with Chagas disease, and a lot of bed bugs. They are in our houses, in our beds — and in high numbers," said Michael Levy, a researcher at University of Pennsylvania's Perelman School of Medicine and senior author on the new paper. He also co-authored a report in January that found bed bug populations in Philadelphia are growing by 70 percent a year.
The Bedbug Infestation: Where Seattle Ranks on The List of Worst Cities
SEATTLE — It's safe to say bedbugs are some of the creepiest, crawliest, skin-tingliest insects on the planet.
And if you don't like creepy, you'll want to stay away from Chicago.
The Windy City ranked highest among Orkin's list of Bedbug Cities for all of last year, meaning more homes and apartments were treated for be bugs in Chicago than any other city in the country. Chicago's problem is so bad, the city council passed an ordinance requiring condo associations to have a formal management plan in place for detection and treatment of the pests.
According to Orkin, the Top 10 worst cities for bedbugs are:
Chicago
Los Angeles
Columbus, Ohio
Detroit
Cincinnati
Cleveland/Akron/Canton
Dayton
Washington D.C.
Denver
Indianapolis
Seattle ranked number 18 on the list, dropping five spots from the previous year. Surprisingly, Seattle is only one spot behind New York City, a notorious center to one of the nation's worst pests.
Bed Bug Inspection At United Airlines HQ = Positive
August 3, 2014 – Bijan Stephen
In the eastern United States, Cimex lectularius, more commonly known as bedbugs, are notorious parasites that feed on human blood. They're also the kind of pest where the psychological fallout may outweigh the actual harm they do. For instance, unlike ticks or mosquitoes, they haven't been proved to spread any disease, but the mere thought that you might have bed bugs can make you itch like crazy, even if it turns out you don't.
Employees at United Airlines' Chicago headquarters are experiencing this firsthand, USA Today reports. Though the insects haven't been found on the carrier's planes, they have been found on the 16th floor of the Willis Tower, where the airline is based. United has confirmed that the parasites have indeed been found.
Penn State researchers seek EPA approval for bedbug pesticide
UNIVERSITY PARK, PA
A group of Penn State entomologists working on a bio-pesticide for locusts and houseflies has found its product also works on bedbugs.
That discovery was honored when the Ben Franklin Technology Partners awarded ConidioTec — the group that developed the pesticide — its $25,000 Big Idea prize at the Chamber of Business and Industry of Centre County awards gala in March.
Now, the pesticide is in the process of being registered with the federal Environmental Protection Agency. When approved, it will be on the market for licensed pesticide distributors. It will not be available to the general public.
Bedbugs Found in UW Library Books
Bedbugs hitching rides in books? Yep, and it's happening here.
A New York Times piece about bedbugs and other crawly creatures showing up in library books says the problem is occurring across the country — including at the University of Washington.
The article quotes Stephanie Lamson, head of preservation services at the University of Washington Libraries, saying she has put bug-infested books in plastic bags and then into freezers to kill the critters.
Bed Bug Apocalypse?
This brief video serves as an intro for the full length Animal Planet special entitled Bed Bug Apocalypse. Find out more about what experts are calling an epidemic of national proportion that is happening around us. Watch the whole video here!
Natural Pesticides for Bed Bug Control: Do They Work?
Researchers at Rutgers University tested nine commonly available biopesticides against a field strain of bed bugs.
In recent years, there has been a movement of "green pest management," focused on the use of natural and low-toxicity materials instead of conventional synthetic insecticides. The resurgence of bed bugs further bolstered enthusiasm for natural products. In particular, essential oil-based pesticides, referred to in this article as biopesticides, flourished in the consumer market.
Many natural pesticides qualify for exemption under section 25(b) of the Federal Insecticide, Fungicide and Rodenticide Act (FIFRA), where manufacturers are not required to provide efficacy data for registration. With lax regulation and a low cost of development, manufacturers can roll out new products quickly, making bold claims such as, "the best bed bug treatment you can get on the market today," or that a consumer can "create a barrier against bed bugs." One product promises "the same results delivered by pest control service without evacuation."
Recently, the Federal Trade Commission filed deceptive advertising charges against two companies marketing allegedly unproven natural bed bug treatment products. Yet, many similar products remain on the market. Some of these products cost $50 to $100 per gallon. Do these products work?
Scientists Discuss How Bed Bugs 'Shrug off' Pesticides
Research shared at the 246th National Meeting & Exposition of the American Chemical Society revealed that most of the genes responsible for pesticide resistance in bed bugs are active in its outer skin-like shell or cuticle. "Every living thing on Earth has a unique set of strategies to adapt to life-threatening situations in the environment," said Fang Zhu, Ph.D., a leader of the research who spoke at the meeting. "The surprise discovery we never expected is that most of the genes responsible for pesticide resistance in the bedbug are active in its outer skin-like shell or cuticle. This is the unique adaption that has not been discovered in cockroaches, termites, ants or other insects."
New Bed Bug Survey Shows Problem is Not Waning…
by NPMA Staff

The new 2013 Bugs Without Borders Survey conducted by the National Pest Management Association (NPMA) and the University of Kentucky, found that bed bug infestations in the United States continue at high rates and the pest is as much, if not more of a problem than in years past. The survey of U.S. pest management professionals, found that 99.6 percent of respondents encountered bed bug infestations in the past year and that infestations have increased.
Virginia Tech expert: Bed bugs here to stay
by David McGee | Bristol Herald Courier, Thursday, September 5, 2013
Don't "freak out" about bed bugs. That was the advice Wednesday from Dini Miller, Virginia's urban pest management specialist and an associate professor at Virginia Tech. Miller shared her extensive knowledge of the pests with a group of about 80 teachers, social service and health care workers, law enforcement personnel and others at the school system's administrative building. "We're into bed bugs now and forever," Miller said. "Because of the regulations dealing with new pesticides, we're not going to have a miracle product. We need to start adjusting our minds to ask, 'How are we going to live with this insect?'
Bed Bugs…Prevent And Eradicate
by Missy Henriksen, VP of PA at the National Pest Management Association (NPMA)
Although bed bugs have in the past been typically associated with residential environments, these hard to control pests become even more challenging when they infest commercial facilities. Due in part to the large size of most facilities, as well as the numerous hiding places such structures offer bed bugs, management of this pest can be extremely difficult.
Bed Bug Research: Mapping Bed Bug Mobility
MICHAEL F. POTTER, JENNIFER R. GORDON, MARK H. GOODMAN AND TRAVIS HARDIN | June 25, 2013 Featured on PCTOnline.com
From dawn to dusk, bed bugs remain mostly in their harborages. Understanding their movements after the lights go out can provide useful insights in respect to monitoring and management.
Like cryptic "couch potatoes," bed bugs lead rather sedentary lives — at least during the daytime, when inspections and treatments are typically performed. Drawn by aggregating pheromones, bed bug nymphs and adults spend most of their time clustered in hidden harborages where mating, egg-laying, hatching, molting, digestion and defecation occur. They venture out in search of blood when hungry, and typically at night.
U.S. Bedbugs Evolve Multiple Ways of Thwarting Insecticides
Ker Than for National Geographic News Published March 14, 2013
Bedbugs are a growing public health issue in the United States and around the world, but their resurgence in recent years may have been aided by humans who unwittingly helped the pests evolve numerous ways of thwarting a common insecticide, scientists say. In a new study published online today in Scientific Reports, researchers examined the genes of bedbugs from different U.S. cities and found that several of the populations had multiple means of resisting a class of insecticides called pyrethroids.
Massive Resistance: Bed Bugs' Genetic Armor Shields Them from Pesticides
CDC warns about bedbug pesticides